Bali In Motion
Written December 30th 2016
Bali, or occasionally humbly addressed as 'The Island of the Gods' is a small Indonesian island of about 4 million inhabitants. Though part of the largest Muslim nation in the world, Bali itself is nearly an entirely Hindu state. For quite some time now the Island has been a paradise for all walks of tourists. Whether it be a chiller looking to surf through his 20s (30s, 40s, and probably 50s), a yogi looking to ignite her inner Chakras, Australians that 'stay for a week' then wake up 65 and in a hammock, and more recently, most of Moscow. The Island boasts it all, and the people keep coming back for more.
Bali's landscapes are pretty incredible, some of the densest, most lush forests in the world. In the space of 2 square meters you'll see every shade of green you've ever seen, then at least 3 more. A handful of volcanoes populate and dominate their respective regions, Mt. Agung being the tallest at a little over 3100 meters. On the less popular shores, and some neighboring islands, the beaches play host to gorgeous turquoise seas, home to an incredibly diverse selection of marine life, making Bali an incredible destination for all forms of divers. The land, and people who occupy it are rich with culture and community, everyone is willing to help, and only some are looking for money. Temples in all forms, shapes, and sizes, fill mountaintops, rice fields, and beaches alike. Almost all are open to the public, and guaranteed to induce sensations of awe. If you go, regardless of your beliefs, stay respectful, and don't forget your sarong.
Some 600,000 Bali Dogs populate the island, a breed unique to these shores. Having lived with the Balinese for no less than 3000 years, the dogs of the island have developed a semi-dependency with their human counterparts. Though a relationship very different to what we see in the western world has developed. Whilst most Bali Dogs have some sense of belonging to a place, family, or community, immediate care is not always assumed, just sometimes provided. The dogs are expected to fend for themselves, whilst sometimes getting an extra helping from humans that are feeling particularly generous that afternoon. This relationship has developed into something not quite as idyllic in times of late, though that is a conversation for another time. If you're interested, BAWA Bali has all the dialog you could hope for, and more. Before I get started talking about the video, check out a couple of my favourite photos, to hopefully start to paint of picture of the beauty of this Island.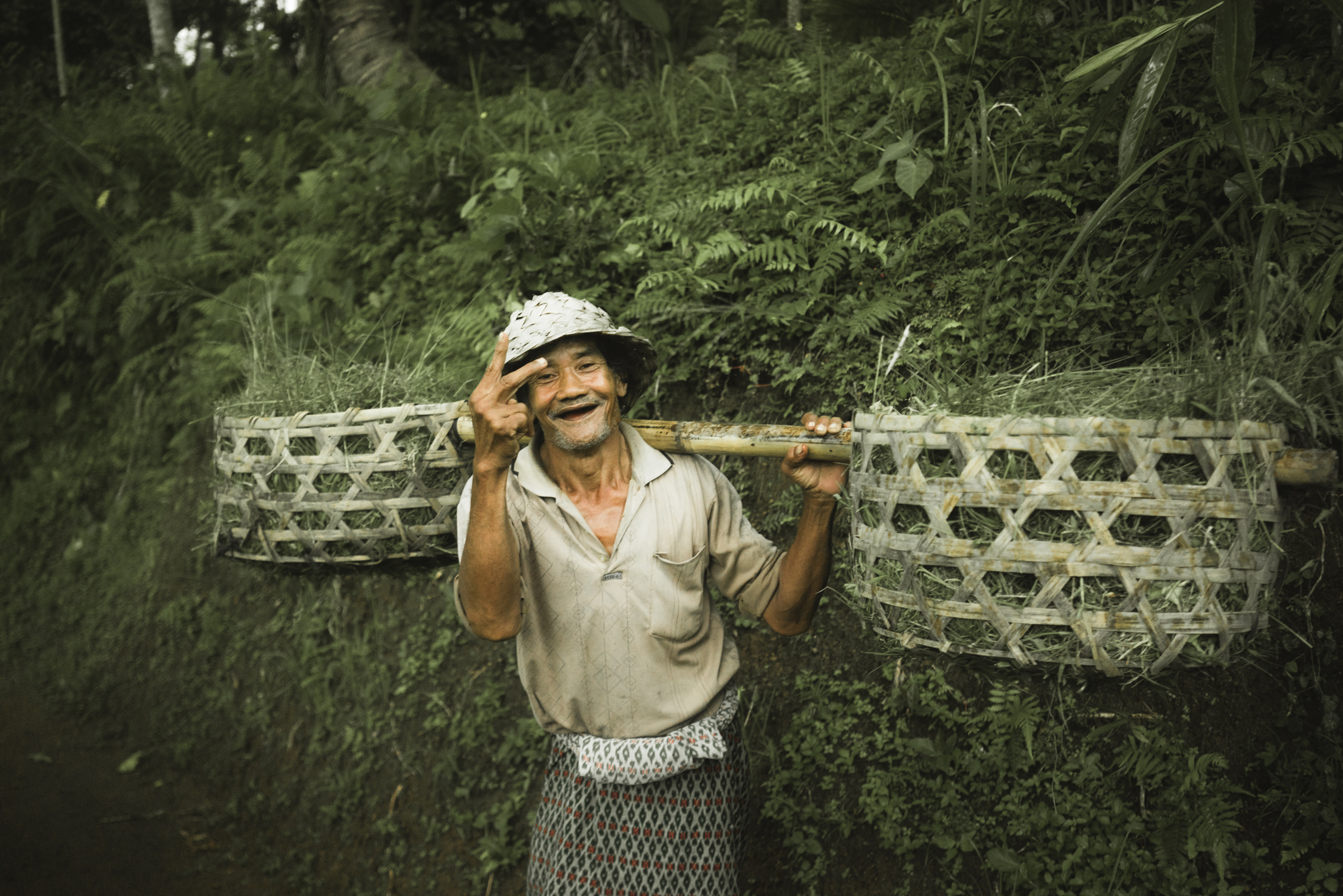 Growing up predominantly in Singapore, Bali was only ever a 2 hour flight away. It was a pretty standard holiday destination for the family throughout the years. As we all eventually got older, family vacations became increasingly harder, then more or less halted to a complete stop. Then, 3 and a half years ago, at almost exactly the same time I made my move to Vancouver to study at UBC, my mum bought a villa in Ubud, and actualized a dream of running a retreat center. Ma was stoked, and my ticket back to this unfathomably humid island paradise was secured.
Fast forward to September 2016, mum extends the much anticipated invite 'home' after 18 months. Boo Yah. I hadn't had the chance to visit since I first picked up a camera a little over a year back. Photography had changed the way I viewed certain aspects of travel an adventure, it had added an extra dimension. Needless to say, I was stoked to send it on the island with a fresh lens of perspective.
My current life in Vancouver can be restricting, I still don't have my drivers license (to no other fault than my own). Organizing adventures takes time, friends, their cars, and incessant convincing masqueraded as a somehow mutually beneficial opportunity. In Bali, life is free (and also really cheap), for a few bucks a day you'll get 75cc's and a helmet to match. At $2 per 100 kilometers, you're laughing. You can go just about anywhere, at any time, no strings attached.
Three days before my trip to the airport, I decided it would be a massive waste if I didn't capitalize on this freedom, these opportunities are rare for me, I would be remiss if I didn't make the most of it. Within about 10 minutes I'd decided that a short time-lapse was the way to go. A time-lapse is created by taking a whole bunch of photos of a certain scene over any given period of time, then stitching them all together to give the illusion of video (generally anything over 24fps will do the trick). Have you ever seen a shot of an epic sunrise in 4 seconds? The sun moving millions of miles across your 13 inch Macbook pro in just about the time it takes you to open the fridge and realize you've got nothing to eat. I can almost guarantee that it was a time-lapse, a photo taken every 30 seconds or so for about two hours.
Anyways, moving on, I quickly realized a few things.
In a timelapse the camera never moves. For the video to not be super boring, the photos have to be pretty amazing.
My photos are aight, but pretty amazing is a far shout.
I need to do something cooler
Let's make a hyper-lapse!
A hyper-lapse is more or less just a time-lapse where not only whats in the shot moves, but the camera itself moves too. For people with money, jobs, or solid career prospects, this generally means getting some form of sliding mechanism that moves your camera from A to B, often twisting it some way or another, over however long you wish, allowing the camera to move and take photos without you ever having to intervene till it's finished. Unfortunately, I'm not one of those people. For now, I'm just a dude with a tripod and slightly too much time on my hands. So, armed with my Sony A7r, a 35mm lens, and the aforementioned tripod, I set out to create a hyper-lapse. Seeking out novel ways to shoot environments to either give the illusion of motion, or actually just spend hours taking a picture, then taking a step, taking a picture, taking a step.

What came as a result is this hyper-lapse esque short 2 minute and 45 second video. It's by no means perfect, or even great, but I started with a goal of creating a video, start to finish, within my 13 days in Bali. And here we are. All in all, the video is about 6500 photos, with some clips using up to 60 photos per second.
Without further ado, I hope you all enjoy: Bali In Motion.